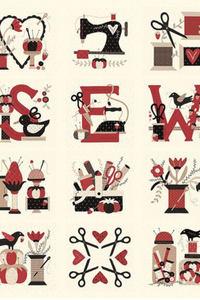 I had so much fun making this Blessed Beyond Measure Project Bag! Check out the video below and make sure to follow me on Facebook for more videos, new product info, giveaways and more! Products used: Blessed Beyond Measure Fabrics Zipper Clear Vinyl Happy sewing!
---
• 2 1/2" strips • Jelly Roll • Sensibility
Today we have a simple quilt that is 38" by 48". Made with 10" squares of batting (20 total for this size quilt), 1 Jelly roll of Sensibility fabrics (you can use any coordinating 2 1/2" strips 42pcs of your choice), scissors, rotary cutter, 10" square ruler, cutting mat, thread of your choice and a iron.  Now that you are ready to start sewing, take your favorite 7 strips and choose one and lay it diagonal and leave at least 1/4" longer past the end of fabric on each end. Take that first piece and fold a crease into each...